Scrambled Codes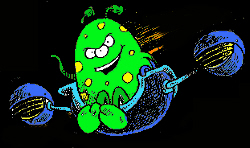 Oh no! The Evil Gollarks are attacking.
You need to send a secret
message to warn your agent without
making everybody else panic!
One simple way of coding a message is to mix up the letters in a secret way that only your agent knows. (Your agent is the person you send the message to.)
Suppose we want to say THE ALIENS ARE ATTACKING.
The easiest way to scramble this message is to split it into pairs of letters:
TH EA LI EN SA RE AT TA CK IN GF
Note: As the last G was on its own we added a random letter so it could be in a pair.
Now we just swap each pair of letters round!
HT AE IL NE AS ER TA AT KC NI FG
And just to finish it off, we can move the spaces around:
HTA EILN EASER TAA TKCN IFG
Already we've made a nice code, but now we'll make it even better.