A new look for Murderous Maths ...
Join the Murderous Maths characters in four books specially adapted by Kjartan Poskitt for younger readers!
Click on the cover to order your copy.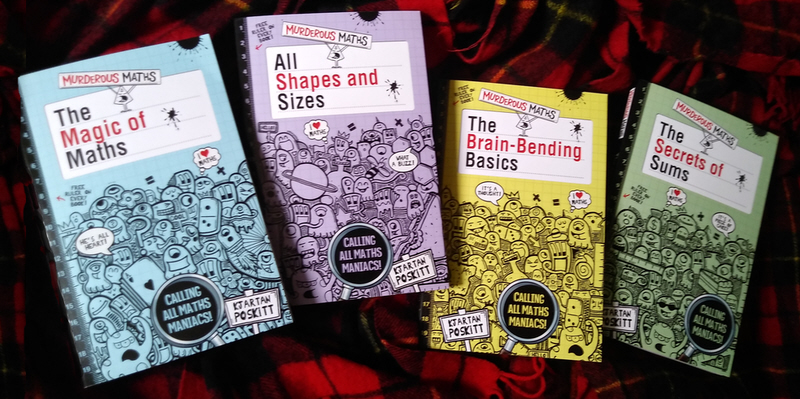 Re-issued with new covers for 2019
An introduction to Murderous Maths which includes

The mad people who invented maths
Domino puzzles
Dangerous cakes
When calculators are rubbish
One-sided paper
Strange days
Little numbers with superpowers
Speed!

The Brain-Bending Basics is an abridged version of "Bend Your Brain" and "Mash Your Mind" With illustrations by
Philip Reeve and Trevor Dunton
A wide range of tricks to perform
ranging from very easy to wizardry!

Beat the calculator
Card and coin tricks
Think of a Number
Magic squares
How to make flexagons

... and many more!

This book has its own MAGIC PAGE

The Magic of Maths is a compilation of all the tricks that have previously been published in the MM series, plus a wide selection of new ones. Illustrated by
Rob Davis
The complete guide to...

Adding and subtracting
Multiplying (the long way and also grid methods)
Dividing (yes, even long division!)
Fractions
Decimals

The Secrets of Sums is an abridged version of "The Awesome Arithmetricks" and "The Mean and Vulgar Bits" With illustrations by Daniel Postgate
All you need to know about...

Triangles, Squares and other 2D shapes
Circles and

π

Line, area and volume
Solids and their nets
Ellipses and orbits
Drawing and even folding perfect shapes

Click here to make your own PENROSE TILES from this book!

All Shapes and Sizes is an abridged version of "Savage Shapes" and also includes sections from Desperate Measures and other MM titles. With illustrations by
Philip Reeve
The big COLOUR book includes ...

Solve 2,000 year old murder mystery
How to make your birthday last twice as long
Creepy curves
4 dimensional noughts and crosses
How to look perfect
The size of space
Ghost potatoes
| | |
| --- | --- |
| LINKS: | |

The new books are also available on KINDLE.