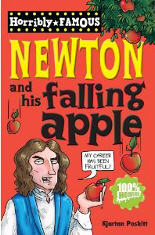 Newton and his Falling Apple
Newton explained gravity, calculus and colours. He also stuck things in his eyes, beat up the school bully, had coin forgers hung drawn and quartered, upset the Germans, nearly burnt himself to death and could have been hung for being a heretic! A weird and wonderful story with fabulous pictures by Philip Reeve.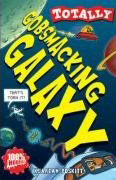 The Gobsmacking Galaxy
What can you see in the sky?
What are the other planets really like?
How do you travel in space?
How could your children become older than you?
Where do stars come from?
What are red giants and black holes...
...the answers are all in here!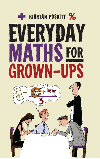 Everyday Maths For Grown Ups
Kjartan Poskitt's book for adults who have never understood how sums and numbers work!
It starts with how to add and subtract, works through multiplying and long division, then takes on everything else including fractions, decimals, percentages, speed, algebra, area and volume, conversions, measurements, probability and more!
Whether you want to help kids with school work, or you've got your own numeracy exam to pass, or you just fancy learning a few tricks to show your mates, this book has the lot.
"It's all here: enough maths to get you through any and every day, and perhaps help adults keep up with their kids - now there's a thought! Enjoy!"
- Johnny Ball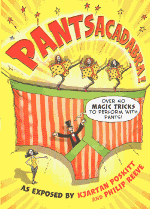 PANTSACADABRA
originally published as
THE MAGIC of PANTS
Unbelieveable! A book of conjuring tricks all involving pants with some of Philip Reeve's funniest ever pictures. Learn how to do everything from small intimate tricks to huge stadium illusions. For more details visit The Magic of Pants Site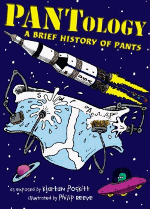 PANTOLOGY

originally published as
A BRIEF HISTORY OF PANTS
Poskitt and Reeve return to explain:
What was the Pantasuarus? How did God punish the serpent in the Garden of Eden? What did spies use to send secret messages in World War Two? Visit the Eighth Wonder of the World and learn about the dreadful curse of the Ancient Egyptian Queen Parpunsnuiffet's wedding pants.