Illustrated by Philip Reeve
Suitable for ages 10 upwards

&nbsp &nbsp Read the REVIEWS!
Har har! They begged, they pleaded, they grovelled, and finally they BRIBED me - so here it is at last... my very own masterpiece.
"...even though it's only the first book the Professor has written, it's definitely his best yet..."
Regular Murderous Maths readers will already know how my appearances in the books add a vital touch of glamour and sophistication to the proceedings. But now I've decided to treat the world to a selection of my absolute dead favourite puzzles and teasers.
It's a lot better than the other books because it's BIGGER and has loads of pictures of me in it.
I've split the book into three sections:
It's the PERFECT GIFT to buy because it LOOKS really expensive, but it isn't!
Suitable for ages 0-3million.
Ideal for children, granny, uncle Sid, cousins in Australia, domestic pets, grandchildren, people not even born yet, the postman, the lady in the fish shop...
Why not treat them ALL?

There's even a small cheaper version available, but it still has ALL the puzzles! Buy it NOW!

DEVIOUS BRAINBENDERS you might manage to solve a few of these.
DRASTIC BRAINBENDERS if you solve any of these then you can call yourself a genius.
DIABOLICAL BRAINBENDERS you won't get any of these right, I only put them in to show how clever I am. Don't even think of trying these or your head will melt. Har har!
It isn't just maths stuff either. It's got logic puzzles, coin challenges, paper cutting, mazes and tricks to try on your friends. But most of all it's ... EDUCATIONAL
Well of course it is. For instance:

Did you know that if you mash up worms and slugs and boil them with washing powder it looks like sponge cake?
It gave me a great idea for a diabolical trick to play at the Fogsworth Manor tea party. Unfortunately it went a bit wrong...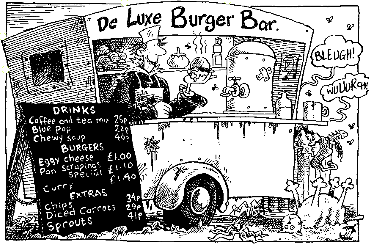 Mind you, nothing tastes as revolting as what Pongo McWhiffy tries to sell from his burger bar!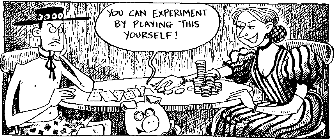 I even took pity on the lesser Murderous Maths characters and let them appear occasionally. I just made sure that I didn't play cards with Riverboat Lil! Luckily she explains to us how she always wins.


You can play with a few of my pet bottigrubs.
&nbsp &nbsp &nbsp &nbsp &nbsp &nbsp
There are even a few games you can try yourself, although I wouldn't recommend "Pass The Poison"...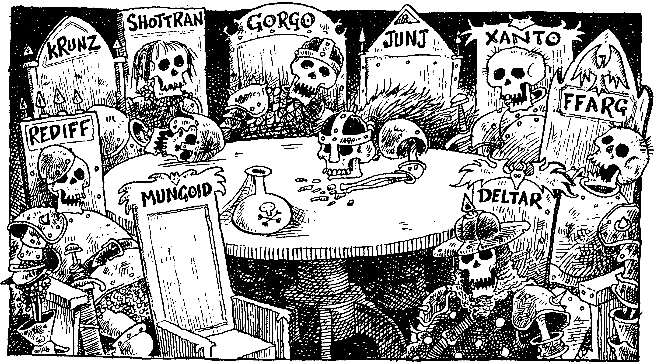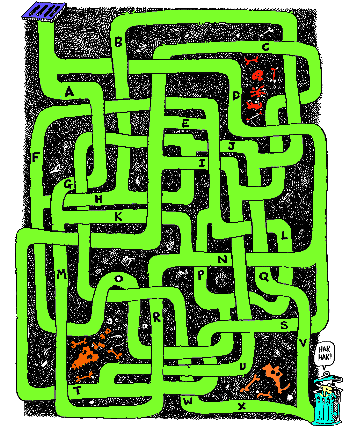 And as a special treat, I invite you into my secret network of underground tunnels, although I bet you'll never find your way out again!
TRY A BRAINBENDER NOW!
Can you get from the drain to the dustbin?
And if you think that's easy then try again...
...but this time you can only pass EIGHT letters!
A different Brainbender is Luigi's Outside Table. One MM fan called Alex Surtees even had the cheek to find a second answer!
Another game in the book is The Coin Pyramid
Click here to find out how to play, and you can see the solution performed for you on your screen!
PRIMARY TIMES Nov 25th 2002
TIMES EDUCATIONAL SUPPLEMENT Dec 6th 2002


LINKS:
&nbsp
&nbsp
Send me to the Murderous Maths Bookshop so I can buy a copy NOW
&nbsp
Professor Fiendish TRICKS AND GAMES page
&nbsp
The Murderous Maths Books
&nbsp
Murderous Maths Main Index Page
&nbsp
Send me back to the top of the page