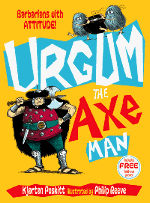 Read about Urgum, Grizelda and Hunjah the Headless in the
URGUM THE AXEMAN books!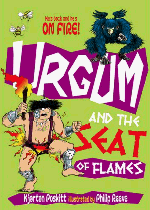 Urgum and Grizelda's HEAD HUNT
A marvellously barbaric and bloodthirsty game to play for 1, 2 or 3 people!
The rules are further down but to start with, scroll the screen so the entire grid is visible then click a few heads to see how it works. You should find that you can get rid of groups of matching heads but you can't get rid of single heads.
SINGLE PLAYER GAME (Don't be embarrassed - that's most of us)
Keep clicking on the grid to get rid of as many heads as you can, and go for the highest total score.
The more heads you can chop in one go - the bigger the score! Look at your total score and check your barbarian rating. Under 1,000 = Suprema (weedy softhand) Over 1,000 = Ruff (Urgum's patheticest son) Over 2,000 = Dizzalid (half woman half lizard) Over 3,000 = Mungoid the Ungoid (hardened savage) Over 4,000 = Orgo the Gorgo (big respect is due) Over 5,000 = Utterly beserk and dangerous to know

OR...just try setting up the most possible head points for one single hit - see if you can get over 4,000. It IS possible sometimes!
TWO or THREE PLAYER GAME (Hey - you've got friends! We're impressed.)
Each choose a character Urgum Grizelda or Hunjah.
Take turns to eliminate a group of heads. (Ignore the score.)
You MUST eliminate some heads if you can at each turn - even if they are yours!
When the GAME OVER sign comes up, the character with the most heads left is the winner.


Links:
The Murderous Maths main index page
This amazing game was invented by Jason Fondren
and came from
The JavaScript Source