He's so tough he thinks nothing of catching cannonballs in his mouth and putting cobras down his vest.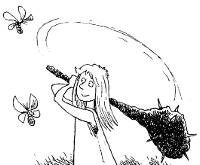 But one day he returns home to find out that not only has his wife redecorated their cave and installed a toy-lett, she's also produced a ten year-old daughter. And as Urgum and his seven savage sons will find out, Molly is a barbarian babe with attitude...
I wish I was a kid again because I would have loved this book. I can't remember there ever being books as side-splittingly, belly-wobblyingly, head-in-risk-of-falling-off funny as this when I wore short trousers. It's a gloriously wordy and irreverant, historicaly-innaccurate riot with Philip Reeve's illustrations expertly adding more laughing gas to the mix. What a great team Poskitt and Reeve are.
John McLay - book consultant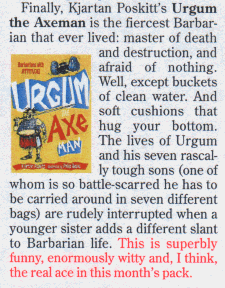 Becky Stradwick in THE BOOKSELLER 21/7/06