The Murderous Maths Site Contents
Nearly all the pages on this site can be accessed by these links. A few pages that are tied in with individual books are not listed here (go to the relevant book page for links). There are also some pages that can only be found if you do the mystery tour!
THE NEWEST PAGES AND UPDATES ARE MARKED WITH

The A-Z index to find everything in Murderous Maths &nbsp &nbsp &nbsp The Complete Book Index
WHAT THE PAPERS SAY


Read the Times Educational Supplement
and Primary Times reviews of
"Diabolical Brainbenders"

The Online Bookshop &nbsp &nbsp &nbsp Who Writes and Draws Murderous Maths? &nbsp &nbsp &nbsp The MM book quiz!

Meet the MM characters &nbsp &nbsp &nbsp Desktop Wallpaper &nbsp &nbsp &nbsp Send a Message to the Mailroom
TRICKS AND GAMES
Professor Fiendish's Tricks and Games

Kjartan Poskitt's Fun Maths Videos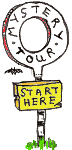 The Mystery Tour
ACTIVITIES AND PUZZLES
FEATURES
ARTICLES
Stories from "The Week" that amused us

The Cicadas 17-year Life Cycle&nbsp &nbsp &nbsp The Al-Gebra Movement

Cool Greek Maths Geeks&nbsp &nbsp &nbsp Olympic Medal Facts
CALCULATORS
THE AREA CALCULATOR
As well as the obvious squares and circles, you can get the area of ANY triangle from knowing the lengths of the three sides, and you can even get the areas of ellipses and the surface area of spheres!
For education and classroom
computer solutions we recommend



The Murderous Maths website is hosted by

These people sorted out all sorts of fiddly problems for us quickly and at no extra charge, and we would highly recommend them to anyone.